MESA, Ariz., Sept. 5, 2023 /PRNewswire/ — Daiso, the renowned global retail chain offering a wide range of affordable and unique products, is thrilled to announce the grand opening at Mesa Main …
Already have an account? Log in to continue.
Current print subscribers can create a free account by clicking here.
Otherwise, click here to subscribe.


To Our Valued Readers –
Visitors to our website will be limited to five stories per month unless they opt to subscribe. The five stories do not include our exclusive content written by our journalists.
For $6.99, less than 20 cents a day, digital subscribers will receive unlimited access to YourValley.net, including exclusive content from our newsroom and access to our Daily Independent e-edition.
Our commitment to balanced, fair reporting and local coverage provides insight and perspective not found anywhere else.
Your financial commitment will help to preserve the kind of honest journalism produced by our reporters and editors. We trust you agree that independent journalism is an essential component of our democracy. Please click here to subscribe.
Sincerely,
Charlene Bisson, Publisher, Independent Newsmedia


Click here to see your options for becoming a subscriber.
Click here create a free account for posting comments. Note that free accounts do not include access to premium content on this site.
MESA, Ariz., Sept. 5, 2023 /PRNewswire/ — Daiso, the renowned global retail chain offering a wide range of affordable and unique products, is thrilled to announce the grand opening at Mesa Main Marketplace in Mesa, Arizona on September 23rd. "We are thrilled to open our store at Mesa Main Marketplace," said Jack Williams, Chief Retail Operations Officer for Daiso USA. "This achievement reflects the dedication and support of our customers who have embraced Daiso's unique concept and diverse product range. We are excited to provide an exceptional shopping experience to the vibrant Mesa community and look forward to serving our customers with the utmost care and dedication."
The new Daiso store at Mesa Main Marketplace encompasses 5,340 square feet and promises to be a haven for shoppers seeking quality merchandise at affordable prices. With its extensive range of products spanning various categories, including Japanese inspired home decor, stationery, food, and more, Daiso has become synonymous with accessible and innovative offerings. John Clarke, Chief Development Officer for Daiso USA says, "Arizona based Daiso customers have shown us through our online business and social media their desire for us to have more stores within the state, influencing our immediate growth strategy in this region. We currently operate 104 units in 7 states with more states opening in 2024".
On both Saturday, September 23rd and Sunday, September 24th, the first 100 customers to shop at the Mesa Main Marketplace location and make a minimum purchase of $30 will receive an exclusive tote bag and a plushie. These special offerings are Daiso's way of expressing gratitude to its loyal customers and welcoming new shoppers to the Daiso community.
Daiso invites customers to join in the celebration. The Mesa Main Marketplace Daiso is anchored by neighboring tenant H Mart and is open Monday through Sunday from 10 a.m to 8 p.m.

About Daiso:
Daiso is a global retail chain founded in Japan, known for its vast array of unique and affordable products across various categories such as household goods, stationery, beauty, and more. Daiso entered the US market in 2005 and continues to expand its global footprint while maintaining its commitment to quality, innovation, and customer satisfaction. The Daiso US headquarters is located in La Mirada, CA.
View original content to download multimedia: https://www.prnewswire.com/news-releases/daiso-new-store-opening-in-mesa-arizona-301918316.html
SOURCE Daiso USA
Other items that may interest you
Most popular stories in Daily Independent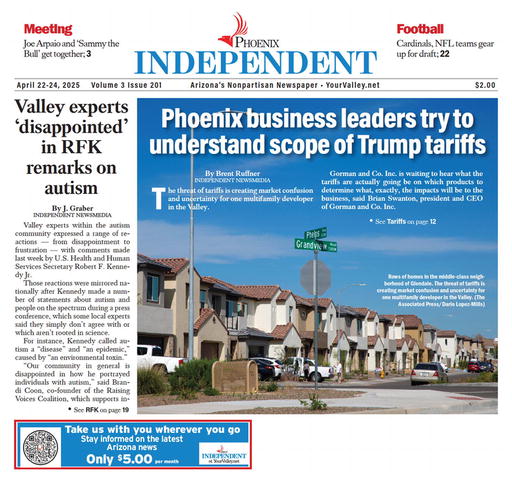 Read the latest print edition here.
View this issue
Browse other issues
Simply submit your e-mail address below, click on the opt-in email link and watch your inbox for news from the Daily Independent at YourValley.net. Thank you for reading!
LINCOLNSHIRE, Ill.–(BUSINESS WIRE)–Sep 6, 2023–Zebra Technologies Corporation (NASDAQ: ZBRA), an innovator at the front line of business with solutions and partners that deliver a performance …
Relo Metrics Launches Sponsorship Performance Data of NFL Games on Snowflake Marketplace
Interpol at 100: A mixed legacy of hunting fugitives and merging police data from 195 countries
Denmark ends height requirements for soldiers best known for ceremonial unit outside royal palaces
Germany holds off Latvia and will next play the USA in the Basketball World Cup semifinals
As Africa Climate Summit promotes solar, off-grid power ramps up below the Sahara


YourValley.net
623-972-6101
17220 N Boswell Blvd
Suite 230E
Sun City AZ 85373
Email: azdelivery@iniusa.org