Posted on May 19, 2023 by staff
Founders to present to judging panel including BusinessCloud editor Jonathan Symcox, with three selected to demo at Trailblazing Tech event
The shortlist of nominees for pro-manchester's Trailblazing Tech Award has been revealed.
This year saw a record number of entries celebrating the outstanding appetite of startups pushing the boundaries of technology with new products and businesses. 
The founders behind these ground-breaking solutions will now present to a panel of judges – including BusinessCloud and TechBlast editor Jonathan Symcox – to showcase their incredible tech.
The top three startups will then go through to a live demonstration on stage at the Trailblazing Tech Conference on Friday 23rd June 2023 at The Lowry Hotel, with an audience vote to decide the winner.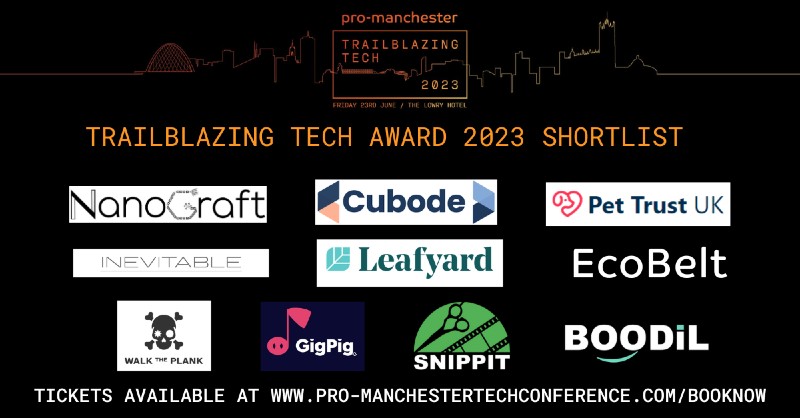 The shortlisted businesses are:
NanoGraft – graphene-based microprocessor graft that interfaces with neurons inside an amputee's leg
Gig Pig – platform that helps venues manage process of booking live musicians and DJs
leafYard – a web application that motivates people to take control of their own mental health
Boodil – a safe and secure way to pay which rewards customers every time they spend
Pet Trust UK – connecting responsible dog breeders with happy homes
Snippit Mirrors – behind bespoke smart mirrors for barbershops
Walk the Plank – outdoor arts charity which creates powerful events with mass appeal
EcoBelt – new company formed to disrupt the conveyor belt industry and stop harmful PVC going to landfill
Cubode – a no-code platform helping data analysts to design and build
Inevitable – collaborative AI technology startup
"The Trailblazing Tech Award is an incredibly exciting part of the pro-manchester programme and we are thrilled to have received so many fantastic and truly credible entries," said pro-manchester COO Nicola McCormick.
"The award has proved to be a huge accolade for Manchester's tech talent with previous winners such as Wondrwall, Inovus and Candl who have gone on to achieve huge success." 
Register now – early bird prices to end today
Trailblazing Tech 2023 will host a rich line-up of expert keynote speakers, panel sessions and live tech demonstrations. Topics include cybersecurity, FinTech, voice recognition and digital transformation for every size of business.
The conference will also see BusinessCloud unveil its inaugural Manchester Startups 2.0 list on a special panel hosted by award-winning journalist Chris Maguire.
The search for Manchester's under-the-radar technology startups was launched two weeks ago and will recognise fledgling companies which are bootstrapped, pre-seed or angel-backed. Founders can nominate their business for Manchester Startups 2.0 using the form at the link below.
Introducing Manchester Startups 2.0 – nominate now!

Jim Shaughnessy
chief legal officer, DocuSign
Arnold Ma
CEO, Qumin
Chris Hogg
chief revenue officer, Lotame
Gary Knight
CEO, WOLF
Jim Shaughnessy
chief legal officer, DocuSign
Arnold Ma
CEO, Qumin
Chris Hogg
chief revenue officer, Lotame
Gary Knight
CEO, WOLF
275 Deansgate, Office 63, Manchester M3 4EL
© BusinessCloud Publishing Limited